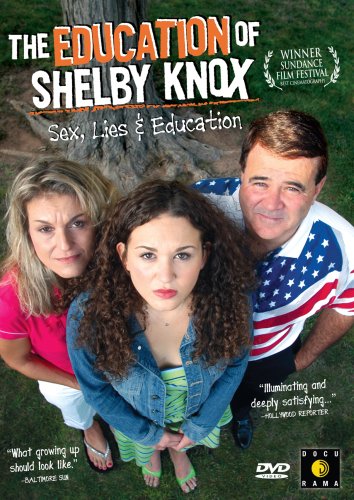 Rene Caudillo
Federally funded, abstinence-only sex education is sparking an intense national debate. Sex may be everywhere – in music, television, fashion and movies – one argument goes, but schools need to give teenagers the tools to resist peer pressure and say "no." Won't teaching about sex only encourage teens to try it? Opponents say that withholding information about condom use and birth control will only lead to unwanted pregnancies and sexually transmitted diseases.
Into the culture wars steps feisty teenager Shelby Knox of Lubbock, Texas. Although her county's high schools teach abstinence as the only safe sex, Lubbock has some of the highest rates of teen pregnancy and sexually transmitted diseases in the nation. Shelby, a devout Christian who has pledged abstinence until marriage herself, becomes an unlikely advocate for comprehensive sex education, profoundly changing her political and spiritual views along the way. When Shelby's interest in politics leads her to get involved in a campaign for comprehensive sex education in her town's public schools, and then to a fight for a gay-straight alliance, Shelby must make a choice: Stand by and let others be hurt, or go against her parents, her pastor, and her peers to do what she knows is right.
The film is an exceptionally timely and intimate look at the cultural wars from the perspective of a young woman's life. The support her conservative family provides is an example of how a healthy democracy could look given the time and will to listen. It is the hope of the filmmakers that screenings will foster that dialogue and build bridges.
"Shelby Knox could have grown up at a Girls, Inc. She is the epitome of a strong, smart and bold girl. We're proud of the way Shelby retained her voice – she was being told to shut up because of the uncomfortable questions she was raising – even as she was being told to quiet down. Girls, Inc. and girls everywhere are watching Shelby's video."
—Susan Houchin
Director of National Programming, Girls, Inc.
"The Education of Shelby Knox does three things extremely well. It shows us one way in which contemporary American tensions around science and religious belief play out at the expense of teenagers, and does so while honoring the complexity of the real people involved on both sides. And it provides us with a close up view of an amazing young organizer who speaks truth to power – the very real Shelby."
—Dr. Wendy Chavkin
Professor of Clinical Public Health, Columbia University
"A brilliant examination of a young person on the road to personal awareness."
—Hollywood Reporter
"Impressive, balanced and truthful"
—Variety
"A warm and accomplished piece."
—Film Comment